Recently, I had the opportunity to sit down with Luisa Rosen, Realtor with Exit Elite Realty. Luisa services Midlothian, Bon Air, Chesterfield, Richmond, Henrico and Powhatan.
I asked her why she decided to get into real estate and she shared with me that she is a caretaker and nurturer type of person. She enjoys helping people prepare their home for sale and guiding them through the home selling and home buying processes. She uses her patience and other well-developed skills every day to help her clients achieve their goals. She also enjoys real estate because it allows her to have a thriving career with the flexibility to spend time with and help her children.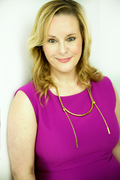 Sometimes, people's perception of what real estate agents do is different than the business itself. I asked Luisa how real estate is different than what her perceptions were before she started in the business. She said that it is more detail oriented than her initial perceptions. She went on to say that real estate is always evolving and changing. She said that no two deals or days are the same when you are in real estate and you have the opportunity to determine your own success based on the effort that you put into your real estate career.
Real estate is a challenging and rewarding career. It is important for Realtors to take regular breaks to recharge their batteries so that they can best serve their clients. When Luisa takes a break from real estate, she enjoys getting outdoors. She loves doing anything at the beach, because the water and sand energize her.
To sustain her energy on a daily and weekly basis, she enjoys taking group exercise classes. She enjoys learning new exercises and group class environments push her to do her best. Finally, she loves spending time with friends and taking advantage of Richmond's foodie scene and spending time with her two children, daughter Alissa and son Marc and his wife Regina.
I hope you have enjoyed learning a little more about my friend, Luisa Rosen. I've enjoyed spending time with her and getting to know her better. One thing is for certain, she is a competent professional who takes great care of her clients.
Midlothian VA Real Estate – Jane Renger, Realtor with Exit Elite Realty in Midlothian VA. I specialize in helping sellers, buyers and investors in the Midlothian, Chesterfield, Powhatan, Richmond and surrounding areas. I love negotiating and advocating for my clients to help them obtain excellent deals on real estate. Jane Renger – 804-397-9796.